Friday, May 30, 2003
Haven't been posting alot the past couple of days. But as
Dean
says, "life trumps blogging every time." I've been getting over a nagging flu-like thing, probably come in on the heels of the upper respiratory junk I got over last week on my stressed out business trip. Basically, just waiting for the day when my body catches up to everything else and I'm feeling better.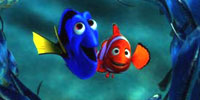 Meanwhile, it's summer vacation for my wife and kids - they saw
FINDING NEMO
, giving it very high marks. I didn't go - stayed home from work, and can't imagine sitting in a theater for two hours right now. But the kids said it was a good Father's Day movie - maybe we'll go back then. I've also seen that
THE ITALIAN JOB
has gotten good reviews - wanna see that one, along with
BRUCE ALMIGHTY
. But I'll probably have to wait until Vicki & the kids go to the beach for a week, getting to see movies that she's not interested in.
Meanwhile, I've got alot of work to get done - mainly, the requirement study I went to Puerto Rico to collect data for. And I've got a Final Exam in our bible college class on The Apostolic Monday night, so there's got to be some study time this weekend, too. All that, and I'm trying to finish a book (gave up on my new year's resolution to *finish* a book per week, but still trying to find time to read) and trying to do some writing, too.
Fun, huh? And
Starbuck's
supposedly opened its first store in Columbia today - woo hoo. Now I just have to find a reason to drive to that side of town.