Thursday, August 21, 2003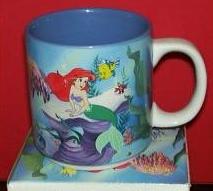 I collect coffee mugs. I don't know when I first started drinking coffee, but I'm pretty sure my first coffee mugs were Far Side mugs with one-panel 'toons on the side. I've never liked "sets" where all the mugs come from the same pattern and match the kitched decor, with flowers or county scenes and such. Instead, I like mugs that (a) mean something, like we found a distinctive looking cup on a trip/vacation, or (b) that have a funny or poignant saying/cartoon on them.
Then there are
Disney
mugs. A few years ago, the
Disney stores
had regular-sized mugs with a scene or panorama from the latest Disney film. These cups were all the "same" movie to movie in that they had a scene or the main characters, and then the insides would be a non-white color that didn't clash with the outside. We bought one from time to time because they were fun and we knew the kids would like them (they drink morning juice out of them lots of times). Anyway, I realized that this "set" was the only one I'd seen that I liked, so we started collecting - right about the time Disney stopped putting them in the stores. At least, I can't find them anywhere in the stores or online. I don't like the 3-d types of mugs or the character mugs with Mickey and Minnie and Buzz Lightyear, etc - I appreciate the movie mugs with the colors inside.
Thanks,
eBay
. Do a search on "disney mug" and you'll find lots of different kinds, and a few of the mugs I want. Normally, I'm pricing these things at Christmas - we've got friends who have a few of these, too, so we can buy a couple for us and bid on a few for them, too. But we've been looking for a few different things on eBay lately, and I found a few mugs I didn't have. Cool deal - the one I won had three movie mugs, 2 Christmas mugs (saving as presents), and the seller was kind enough to send an extra movie mug with a little chip.
Final tally? If my count/memory is correct, we've got 16 different mugs, no repeats. We do have two different mugs from Alladin, but they've got different pictures. Anyone know where I can get a better display/cabinet to put these in? We use them - it's either them around the house or travel mugs in the car - so I need something that'll hold them, hopefully three mugs high and however many wide to still fit under the cabinet.